When looking for exhibitions to review, we often try to focus on London's smaller museums and galleries. Of late it seems institutions like the big nationals seem to being doing much of the same old same old. Thankfully we didn't let our preconceptions keep us from visiting the National Gallery's current exhibition Making Colour. We mean it when we say it is one of our favourite exhibitions of the year and an absolute curatorial masterclass of interpretation and design. Sleek, concise, intriguing and informative, Making Colour is exactly what an art exhibition should be.

How do I even start reviewing this exhibition? It would be tempting to take you through room by room pointing out everything that was fascinating or noteworthy. But we'd be here all day.
Making Colour
is essentially a brilliant idea that makes you look at art differently. What more can you ask for? The rooms are organised by colour and structured by pigment. On one wall you'll see paintings from the 15th century through to the Impressionists who share in common the same pigments, usually displayed alongside the raw product. The concept is simple but eloquent. And the design follows suit.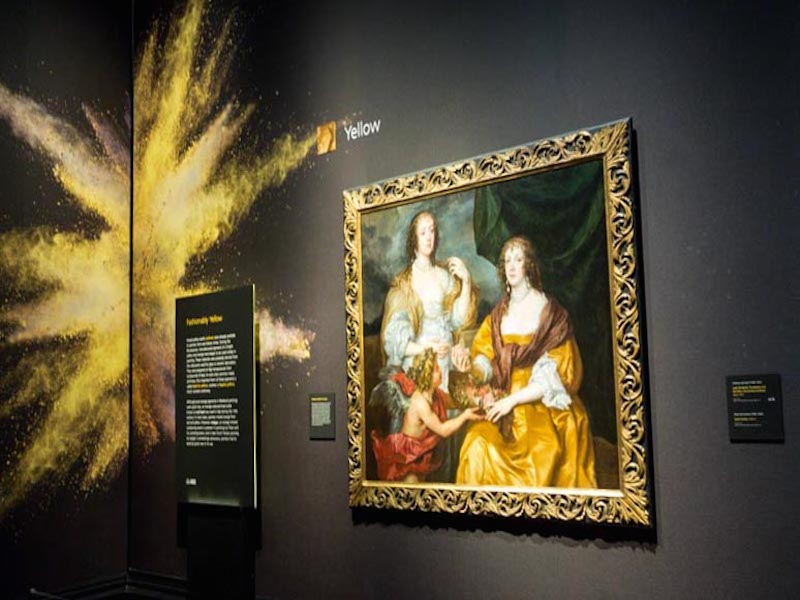 Black painted walls provide a calm background for you to consider the nuanced colours of the painting. Each room is disrupted by a riot of colour that draws your attention to what you should be focusing on in that space, accompanied by concisely written panels that explore the origins of that pigment. The topic might be chemical is nature, but the emotional aspects of colour are not forgotten. Red for passion, love, rebellion and blood, purpose for luxury and royalty.
Unlike some recent National Gallery exhibitions, there is plenty of space in the galleries and each painting is carefully chosen to prevent overcrowding. Perhaps most impressively, each room mixes works of art from across the centuries with raw materials, videos, sculpture and textiles. The mixed media enhances the paintings captures your attention.
With your attention so carefully guided, each painting, which you probably wouldn't have strolled past without a second thought normally, becomes an opportunity for contemplation. In the gallery, visitors stare purposefully at each work- a testament to impeccable pacing and structured on the part of the curators. At a deeper level, each carefully considered artwork adds its own unique story to the message of the exhibition. For example, we learned how the red velvet arms of the dress worn by this sitter were likely made from dyes extracted from the textile of a similar dress.
This painting of the Virgin Mary takes on an additional devotional quality when we learn that the blue paint of her robes was worth more than gold. This artwork hangs next to a film which discusses the harsh reality of lapis lazuli mining in Afghanistan- showing how far we are still willing to go in our quest for the perfect blue.
It doesn't matter if you are a paintings enthusiast, a conservator, or just an art lover, we can guarantee you will walk aways from this exhibition having learned something new. Did you know that Isaac Newton developed the colour wheel in the 1660s? Or that Cezanne was only able to create his bright tropical landscapes because new synthetic paints had been developed? Or that some Dutch still life paintings contain poisonous lilies painted with ruby of arsenic? We are tempted to go back just to have another try and wrapping our mind around the idea of colour.