It's 7pm on a gloomy Bank Holiday Monday evening and the Ministry of Curiosity has trekked to the far East- Dagenham East that is, in search of a history of medicine adventure. After a few failed attempts, we find ourselves in front of an old factory building, the former May and Baker pharmaceuticals factory. Organised by Creative Barking and Dagenham in partnership with the local community, we embarked on an immersive theatre experience through the building an the history of chemicals production in East London...
As a historian of medicine, I was incredibly excited for our visit to Well. Theatre, performance, exciting London spaces, and medicine - I mean honestly what more could you want! Although a few minutes in, I honestly did think to myself - oh lord, what have you hipsters done now? Spooky actors uplit by florescent bulbs, ominously pouring one phial of coloured water into another isn't necessarily how I would communicate the history of a pharmaceutical factor to the public. Walking down a cooridor which looked more or less like it had been decorated with print outs from Wellcome Images, I wondered to what extent the theatre directors had actually spoken with any pharmaceutical historians.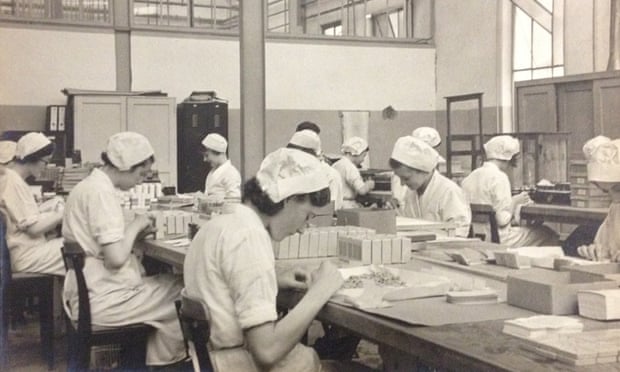 However, as the performance continued, I started to change my mind about the experience. For me, the turning point was really the scene in which the participants watched a factory employee prepare for their day, with complete health and safety gear, while listening to an oral history about the personal experience of being a part of the May and Baker family. It occurred to me that this project wasn't really about the history of medicine or pharmacy, it was about people's relationship with this building and their sense of purpose of what they were doing (Sanofi specialised in cancer-fighting drugs). And that was when I really started to enjoy myself. Entering an area mocked up as a ball-room with former employees waltzing in memory of all the Christmas and going-away parties of the past, I almost cried.
The concept behind Well is absolutely fantastic - engaging members of the local community, and former factory employees, in an exciting project that allows them to share their experience of and love for the Sanofi factory. The building itself is absolutely worth the price of admission - winding your way through the chemical stores, factory floor and offices is absolutely fascinating - an incredibly rare peak into the spaces of 20th century science.
To truly experience Well, you might need to put aside some of your more pedantic preconceptions (why is this an Ebola ward, there was no Ebola outbreak when this factory was open, and they certainly never treated patients here) and focus instead on the incredible emotional investment that the local people have made in the factory building. Along the way there are certainly touches of pure genius, a lone shower of pills in an echo-y corridor has an absolutely amazing effect. But really it's the people, the participants, that make it all worth while.
Well is only open until September 6th - but believe us, it's worth making the trip East! For more information on opening times, tickets, and booking click here.