Everyone knows that we love to visit London's small museums and promote them through our #hipstermuseum series. We usually like to focus on the more entertaining side of things, focusing on all the insta-worthy experiences you can have beyond the city's big nationals, but of course there's much more to visiting small museums. In Micromuseology, Dr Fiona Candlin, museum studies lecturer at Birkbeck, takes a more academic approach to why small museums rock. Sure to be a required reading for all you aspiring museologists, Candlin's book is accessible enough for everyone who loves Britain's quirky independent and specialist museums.
The Bakelite Museum
What is a micromuseum? This is the basic question that Candlin seeks to answer in her book, and one that is actually incredibly complex. Is it to do with funding? Size? Staffing? Subject matter? Visitor number? Floor space? In trying to define a micromuseum, Candlin ends up questioning what it is to be a modern museum altogether. For example, does a museum need to be accredited to be a museum? Does it need a professional curator? Does it need a scholarly or impartial viewpoint? Considering over fifty micromuseums across the UK, Candlin will slowly change your mind about what you think a museum is or can be.
Museum of Witchcraft
Compared with the institutions featured in this book, our hipster museums seem enormous! From the Museum of Witchcraft in Boscastle to the Bakelite Museum in Somerset and the Cornice Museum of Ornamental Plasterwork, Candlin travelled the country in a campervan to visit some of the most obscure small museums she could find. And finding them does indeed sound like half the battle- many of these institutions being run by families, or a small group of volunteers with limited hours and in out of the way places. In order for museums to be listed in the Museums Association Yearbook they have to submit their own details; something small non-accredited museums probably haven't even considered doing. Without any real listing of these museums, Candlin relied on local guides, word-of-mouth, and the trusty hotel lobby pamphlet to find her source material.
Vintage Wireless Museum
I've been to plenty of small museums in my day, including the Museum of Witchcraft which Candlin features prominently in her volume, and I have to admit I've always been a little bit of a curatorial snob. From label tenses to lighting, or the overly enthusiastic museum docent, I have a pretty fixed idea in my mind of what a museum experience should feel-like. But Candlin's book has prompted me to reconsider some of my own professional bias which undoubtedly comes from my background in large museums. I have an idea of what I think the museum should be, but does that match up with what the public wants? Candlin summarises the conundrum brilliantly:
'There is some irony in this situation because the Museums Association strongly advocates for inclusive museums- which are open to everyone and not just the upper middle classes who historically dominated museum audiences, but they simultaneously disqualify museums that are founded and run by people who do not necessarily belong to an institutional or professional elite...major museums need to acknowledge and represent diverse views. Individual institutions should be open to the populace at large but it is also important to re-evaluate official conceptions of museums, of how they operate, who runs them, and to what purpose: democratization requires that other type of museums are recognized' (Candlin 2016 p.11).
Two examples from the book address this imbalance perfectly: The Bakelite Museum and the British Vintage Wireless Museum in Dulwich. When Candlin visits the Wireless Museum, she finds a huge specialist collection stuffed in a private home. Sitting drinking tea with the curator/owner and his specialist friend, in a gallery which doubles as the kitchen, Candlin ponders on the idea of public and private space. And yet isn't this more personal interaction with a collection more affecting, more informative, and more in-line with the original idea of the cabinet of curiosities than a large institution with everything behind barriers? In the Bakelite Museum, there are hardly any labels or order at all to guide the visitor through their massive collection dedicated to this versatile material. Does this lack of professional standards put off visitors? Not at all- people report finding the display even more thrilling as they are able to discover things for themselves.
Personally, I found the chapter on the British in India Museum very affecting as it encapsulates one of the reasons why I personally love working in museums. Established in memorium to the British Raj, the British in India Museum has an unapologetically nostalgic perspective on the British rule of India in the late nineteenth and early twentieth century. Filled with mementos of lives spent in India, the museum is a 'family sepluchre' for elderly individuals who want their memories saved in perpetuity. The political context of the museum, that is colonialism, makes the memories enshrined in these objects very difficult. However, it is also a perspective which is both often missed out in museums (as I can't imagine any funders being particularly happy with it) and one which is very genuinely felt by a formerly large, but now dwindling group of people. In large museums we so often have members of the public send in family knick-knacks, often very ordinary, unremarkable items, which are hesitant to look after. But aren't all objects in museums just memories that someone really cared about? Isn't all preservation in the end an act of kindness and love?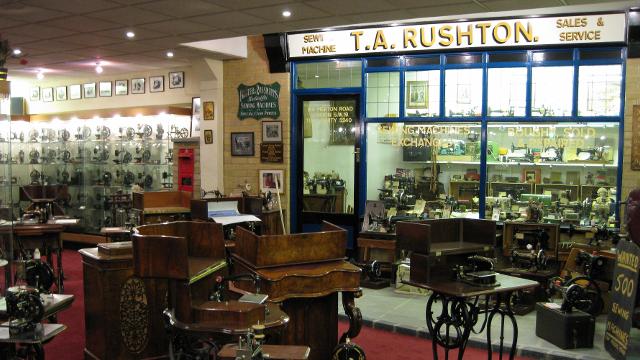 Sewing Machine Museum
Professional or no, after reading
Micromuseology
I have a much greater understanding of the value of small museums for individuals, for communities, and really for our national memory of the past. Of course we would rather that objects be looked after to the highest standard, but that's not to say there isn't something valuable in, say, a group of engineering enthusiasts running and repairing steam engines. I only wish the book included a listing of all the museums Candlin visited so we could try to hunt down some of our own. The Wireless Museum in Dulwich and the Sewing Machine Museum in Balham are definitely on our list for the near future!