This might seem like old news to some, but it came as a bit of a shock to me on my recent holiday to the sleepy harbour town of Ilfracombe. What a nice inconspicuous sounding Devon get-away, full of tradition, history, seals and a completely ridiculous Damien Hirst sculpture. No seriously, what is this:
Towering above the sleepy little harbour is this enormous bronze pregnant woman holding a sword and flayed on one side. At first, I thought it was actually pretty cool. I'm very familiar with the history of dissection and very used to anatomical drawings and wax models. If anything, I thought William Hunter would be very pleased to see an artist taking an interest in the anatomy of the 'gravid uterus' as he would say. But the more I thought about it, the more I came to think this was just wildly inappropriate for the setting.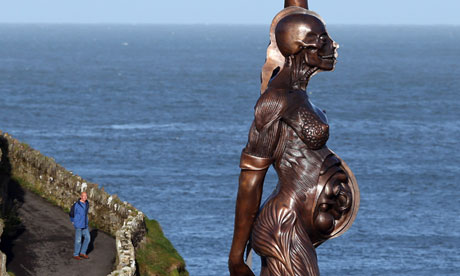 But how do local people feel about it now that it has eclipsed the harbour for 6 months. One lifeboat captain succinctly described it to me as 'weird as hell'. He also let us in on a little of the town gossip. Word on the street is the statue is meant to be getting back at Hirst's wife, who recently left him after falling pregnant with her lover. The flayed open body exposing the unborn child and the pose as justice takes on an even more sinister tone.
I am more baffled why the town of Ilfracombe agreed to this? Admittedly, Damien Hirst is a pretty big name artist to have resident in town. But why would you want to accept such a hateful sculpture? Well, I think I may have just worked it out.
As we all know the north coast of Devon much like parts of Cornwall is known for its smugglers and pirates. Clearly, the town of Ilfracombe must still be concerned by the ever present threat of piracy. Let me tell you, if I was a pirate coming into that town and saw what kind of 'justice' the townspeople had in store for me, I would turn right around. With Hirst's monstrosity guarding the harbour, I can imagine everyone sleeps better at night.
The riff-raff the people of Ilfracombe want to keep out
Disclaimer: I am not an expert on Art in any way, especially not the particularly fraught topic of public sculpture. I am also not pirate.
http://www.telegraph.co.uk/culture/culturevideo/artvideo/9615156/Damien-Hirsts-Verity-statue-takes-up-position-in-Ilfracombe.html