If you have ever walked from Holborn to Covent Garden, then you have almost certainly seen the Art Deco giant which is the Free Masons Hall. But did you know that it has a museum inside of it? Well maybe you did but if you have never been inside you are definitely missing out on our first #hipstermuseum.
Oh right that's what that building is.
Let's just start out by talking about the museum itself. I can honestly say I walked around this 2 room museum for a good 45 minutes, and left not really knowing anything additional about Freemasonry. But then again I don't really think this is the purpose of the museum. Like with most small museums housed in larger institutions (think the Colleges of medicine) the main audience is really the members, and they probably know the basics. For a casual observer though, the displays are more difficult to read. So don't try to find the chronological panel on the development of Freemasonry in London, it's no there. Also watch out for text panels speaking in the collective 'we'. cringe.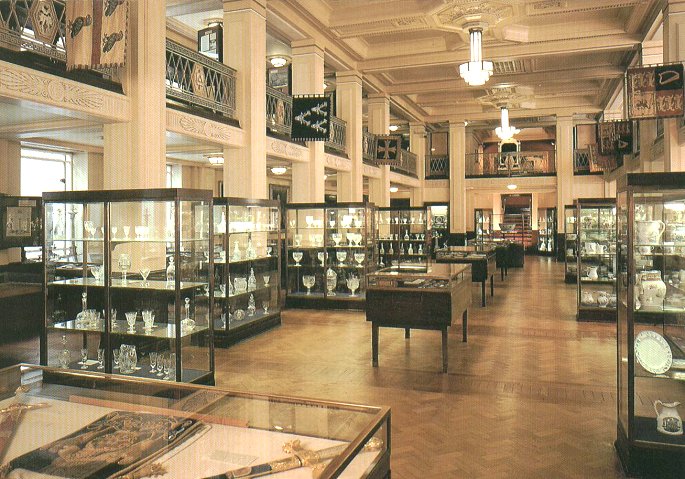 As a museum professional, this would normally really bother me about a museum. But you know what, I loved this place so much I don't even care. You enter the Museum through the Library, which itself has a series of display cases on portrayals of the Masons in literature. It's worth a browse, and I personally got very distracted by the amazing titles in the museum stacks. But just wait until you enter the museum room: one enormous two story space absolutely packed to the brim of mason memorabilia and bric-a-brac. The balcony is lined with incredibly imposing looking throne chairs which watch you as you browse ceremonial garments, chains, teapots, punch bowls, pipes, ceramic elephants and basically anything else you can imagine which would possibly be stamped with a masonic image.
Treasures like this await you.
Again, I'm not 100% sure what I am meant to be taking away from the collection of drawing tables (what's a drawing table?), ceramic figures, certificates of membership or engraved nautili, but I loved every minute of it. Top that off with a few full-size dummies in full ceremonial garb and you definitely have my vote for a pretty ace 'cabinet of curiosities' style museum.
The star of the show really is the Grade II building itself however which the public are allowed to access thanks to the museum. On a weekday, the museum hosts up to 5 tours of the building a day and believe me when I say, they are definitely worth it. When else are you going to get a chance to see the Prince Regent's enormous ceremonial throne (specially built to accommodate his bulk) or marvel at the enormous Grand Temple used for the masons most important meetings? Completed in 1933, the Freemasons Hall is the only intact 'as built' Art Deco building in London in all it's wood-paneled, stained glass, marble-covered glory. The whole thing feels like a very expensive film set, and indeed it has been used in many films and tv shows including Guy Richie's Sherlock Holmes.
The Grand Temple. Yes it's really big.
None the wiser about Freemasonry and now obsessed with art deco architecture, I'm already keen to go back. Why this isn't a number one 'don't miss' in the Covent Garden area I'll never know. But for the love of god, don't skip the building tour!
Love it, want it, need it.