'They are doing a big travelling exhibition at Two Temple Place!' a friend at work told me excitedly.
'Oh yeah, that big building by the stupid Green Park roundabout?'
'No not Apsley House- Two Temple Place…in Temple,' she replied incredulously. 'How can you claim to love London museums and not have even heard of Two Temple Place?' she demanded.
My colleague certainly had a point. I would say in my own defense- Two Temple Place is not technically a museum, but a historic home now owned by a charitable trust that they open up a few months of the year. As of 2011, the former Astor House has re-vamped itself as a public gallery committed to showing off art from around the UK.

Pop-up art exhibitions in the historic home of Victorian American real-estate magnate? A venue bringing the best of regional collections to London? It's almost too good to be true, and that's why Two Temple Place is this month's #hipstermuseum. (Or..er, #hipstergallery?)
It's appropriate to tell you more about why Two Temple Place is so amazing in the context of it's current Discoveries exhibition. That's because you can only actually get into the building when it has one of its exhibitions on, usually about 3 months of the year. The rest of the time the looming gothic mansion is occupied by office and meeting space, and apparently the occasional dance troupe. Built in 1895 for American tycoon William Waldorf Astor (of Waldorf Astoria Hotel fame), the wood-panelled building has been called 'Victoriana-meets-Disney'. So you just know you are going to love it.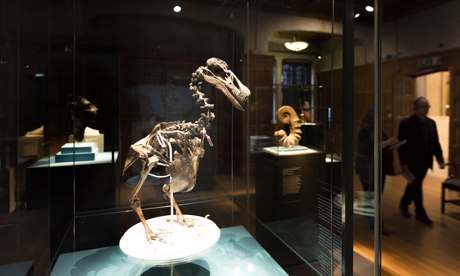 As if reveling in the cheesy splendor of nouveau-riche turn of the century American style wasn't enough, if you go before the 27
th
of April you'll also get to see the building filled with treasures from the Cambridge Museums. All 8 of them. 8 museums in Cambridge you say? Indeed- all 8. Including the Polar Museum and the Sedgwick Museum (who knew?).
Discoveries
is art, science, technology, anthropology, and archaeology all thrown together. It's everything eclectic and curious we love about museums all under one roof.
Like any exhibition, Discoveries has its high and low points. But it seems much easier to forgive any small foibles when it's in a gothic mansion that wouldn't seem misplaced in a 'Hill House' style scary film. What Discoveries does so fantastically well is show the wide-range of collections held by Cambridge in a way that warms a museum person's heart. Star objects like this Inuit figure and a Dodo skeleton are shown side-by side with the lesser-loved collections of endless paddles, goggles and geological specimens. It's like a big warm hug for every curator who's ever opened a drawer of beads and thought sadly how no one will ever love them. Upstairs things get even more exciting- plaster casts of Praxiteles sculptures displayed in the sweeping gothic hall with technology used for modern neutrino research. Shot out to all you Harry Potter loving physics nerds!
But don't be fooled, yes you will enjoy the exhibition but if you are visiting Two Temple Place you are there for the building. Blue-stained glass windows over the ornate staircase covered in statues of characters from the Three Musketeers (because why not). We even loved the toilers (#museumloos) – so obviously retrofitted with proper plumbing, complete with much too high ceilings covered in cobwebs. Or are we the only ones who notice these things? The interior and exterior of the building are covered in friezes gilding and all other forms of architectural frippery which remind us so much of those eccentric Victorians. Getting a chance to wander around this treasure of a building plus a bonus virtual tour of Cambridge Museums? Sign us up. Oh and did we mention- it's free? Painfully cultural and easy on the wallet- Two Temple Place is hipster heaven.
Discoveries: Art, Science and Exploration is on at Two Temple Place until the 27th of April http://www.fitzmuseum.cam.ac.uk/discoveries/