British photography = David Bailey. Fact. The iconic portrait photographer's work has dominated our view of fashion and culture for the past fifty years and finally a selection of over three-hundred images has arrived at the National Portrait Gallery. Curated by the man himself the exhibitions proves to be an exciting look at the familiar portraits from one of the greatest image-makers.
If you haven't heard of David Bailey then you must have spent the past fifty years watching paint dry. His familiar images and cult status have led him to become a household name (my Nan still coos 'Ohh you're being such a Bailey' anytime someone pulls out a camera), and copies of his images adorn living room walls across the country. Famous for his time spent as fashion photographer for British Vogue in the sixties, Bailey is credited alongside photographers and film directors Terrence Donavon and Brian Duffy for helping to capture and create the 'Swinging London' phenomenon.
Jean Shrimpton - Babe
Nonetheless, his self-curated and self-printed exhibition at the National Portrait Gallery provides a broader look into his art. Sorted thematically the numerous rooms allow visitors to quickly explore his familiar work. 'Fashion Icons and Beauty' features some of his most recognisable celebrity images and a sculpture titled 'Dead Andy.' Made of baked beans and plaster Bailey's few sculptures provide an entertaining caricature of his good friend Andy Warhol. But the images of the Rolling Stones and Dali show to the stark difference to Bailey's portraits of 'unknowns.' With an almost ethnographic vibe his images of individuals from Sudan, Delhi, Papua New Guinea and Australian Aborigines you begin to see a different in his work as a sensitive photographer and that of an almost paparazzi.
Fashion Icon - Anna Piaggi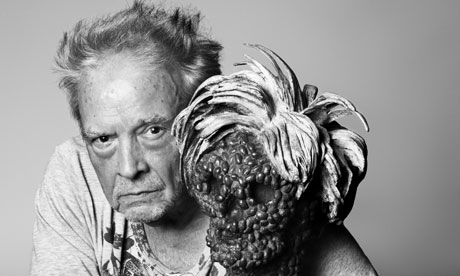 Dead Andy and David
The beauty of his work truly comes together in the final room, with his exploration images of the East End – again almost ethnographic, with stories of hostility and suspicion of him when photographing within the local working men's club the images are gritty and feel real with scenes of working class girls ready for a night out on the tiles. Some very odd and I suppose artistic curating has gone on here, almost as if there were all of this images he was desperate to put in but couldn't find room in the other tightly categorised sections. Next to East Enders sits images of Salvador Dali and Andy Warhol and are reminded again of his status as a cult photographer.
Saturday Night with East End ladies.
But with his more recent series 'Democracy' towards the close, Bailey sends outwardly shows that his photography isn't all about papped celebrities, the normal and absurd sit proudly together. Perhaps the most exciting end to a portrait photography exhibition is the skull series, unusually classified as life work, David Bailey believes skulls are the ultimate form of portraiture and I believe him, as the remains happily pose for their photography surrounded by the very symbol of life - flowers.
Bailey's Stardust at the National Portrait Gallery reveals a national icon - a definite see.
Running until 1st June 2014, tickets cost £16 per person. Find out more here: http://www.npg.org.uk/whatson/bailey/tickets.php or @NPGLondon