Here at the Ministry we have written many an exhibition review in our time. But never one we thought we needed to start with a #spoileralert. If you are planning on going to see Alexander McQueen at the V&A, don't read this post. In fact, if I were you I wouldn't read any reviews, let alone watch that Tinie Tempah tour. The exhibition is an immersive experience unlike anything we've seen before - so you'll want to experience it for yourself with fresh eyes. Although if you are in fact going to try and see it GET YOUR TICKETS ASAP! (Unless you are an MA member then you can of course just rock up). Now that you've been adequately warned, we can move on to our thoughts on #McQueen...
Because I was good and hadn't read any reviews, I didn't have any idea of what to expect. When I first walked into the exhibition, it didn't really seem that special. An industrial looking room, with some mannequins in McQueen clothes. McQueen took inspiration from London, McQueen was a visionary, McQueen had unique lines - yes yes. But when I strolled into the next space, I almost started crying. The floor to ceiling antique mirrors,the towering mannequins in their dark crow-like masks, the evocative soundtrack. This isn't an exhibition...its a journey into the mind of Alexander McQueen.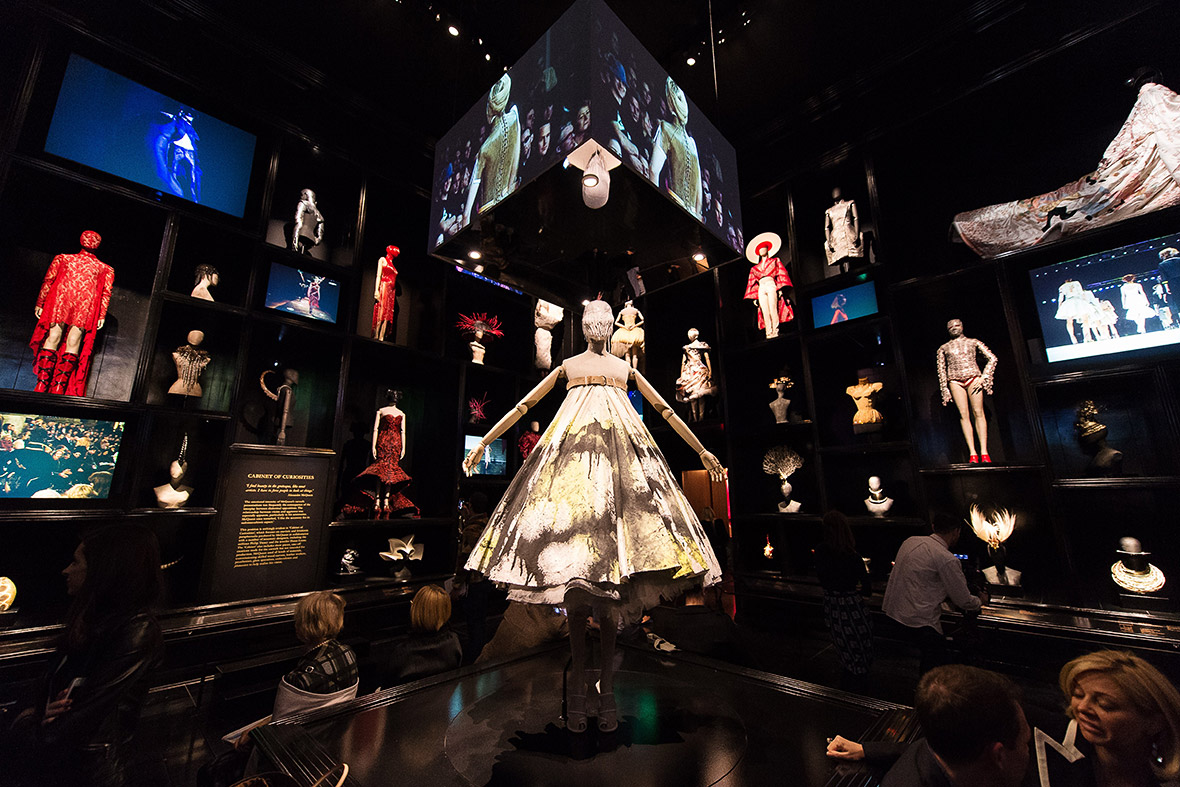 I think really the best way to think about Savage Beauty is it's not really like an art gallery at all, it's an immersive experience. I mean, I certainly can't imagine any historical exhibition with music that loud, lights that flashy, and labels that tiny, and not being absolutely slammed for it. On that note, the text panels are actually incredibly hard to read - in one room the gilded words were so difficult to read I watched a number of people in front just shrug and walk away. In the next room, one main panel actually used the words 'avatistic', 'fetishistic' and 'dialectical' - at least two in the same sentence. I can't help but think how many accessibility guidelines are being ignored.
But don't be confused, the exhibition is AMAZING! And that is it's purpose- to overwhelm and amaze, to be an experience, in the style of McQueen. Each room is its own environment, inspired by the collections. Whether its a futuristic cabinet or curiosities or a low, darkly-lit cave evoking the ancient past, the designers have made the intention beyond the clothes into a lived experience.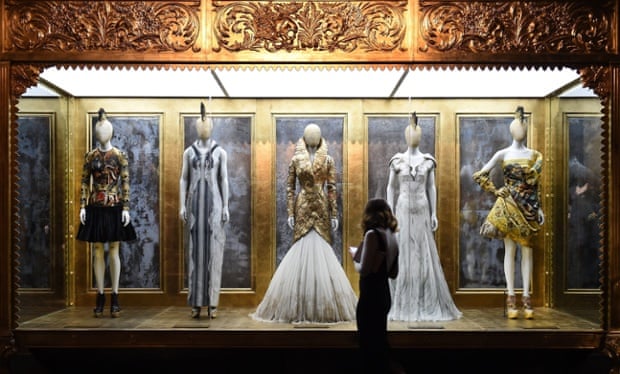 Something I must say I hadn't quite expected was the diversity of people there with me. Of course it's a huge blockbuster show so why wouldn't a huge range audiences come along. But actually, everyone seemed to be engaging with the subject matter. I heard people pointing out different pieces they were familiar with - isn't that Lady Gaga's dress? I know that headdress! Did you see the clam shell blouse? It's a testament to McQueen's pervasive influence, even for those of us who aren't particularly high-fashion conscious.
What more can I say really - Savage Beauty is something that you have to experience for yourself. It's not an art exhibition, it's art in itself. A truly fitting tribute to McQueen, even if they had to break some of our museum rules to get there.