With Valentine's Day this weekend, we know love is in the air here in London. Romantic events, or occasionally not so romantic events (check out the Jewish Museum's Fright Night this Thursday) will be plentiful in London's museums this week, but here at the Ministry we are thinking of a more long term celebration of love. In the competitive world of the city's wedding venues, we've picked out some of the best options for combining your ever-lasting love for your partner and of course, museums. Well weddings in London are of course exorbitant in price, at least with a museum venue your money is going towards funding cultural heritage! Here are out top 8 museum wedding venues to get your pulse racing this Valentine's Day...
1) The Garden Museum
With all these lovely venues to choose from, deciding who would be top on the list is no mean feat. There is so much to think about - ambiance, location, photo opportunities, cost, but we think the Garden Museum has it all. Ideally suited for those of you with a slightly more traditional bent, the Museum, which is housed in a beautiful sixteenth century church with a historic knot garden, brings the historic home feeling right to Lambeth. Situated next to Lambeth Palace and with stunning views of the Houses of Parliament, you are sure to get some enviable wedding snaps. It's also very affordable compared to many of the city's venues. Although the Museum is currently closed, it will be taking bookings for Spring 2017 ceremonies!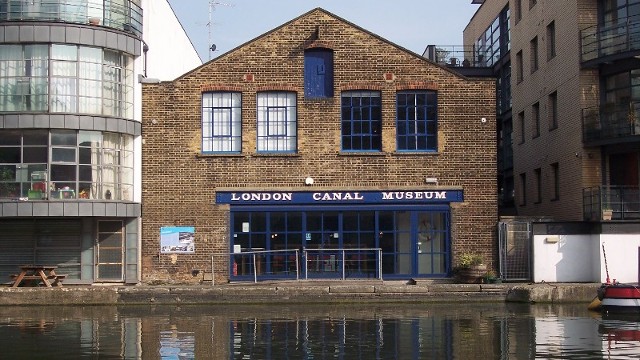 2) The Canal Museum
The Canal Museum in King's Cross might not necessarily be your first thought as a wedding venue, but its well known in the industry for its quirky vibe and fantastic value for money. With venue prices starting at about £900, its well below many of its competitors in price; plus its a licensed venue so you can have your legal ceremony and reception all in one place! The building itself is a Victorian ice warehouse (for making ice cream) that backs directly on to the canal- and you get all the exposed brick period features you can dream of. And if all that wasn't enough, you can arrive on your big day by boat.
3) The Steam Museum (Kew Bridge Steam Museum)
Slightly less central than the first two venues is the Steam Museum in Kew Bridge, but don't let that distract you. Housed in a former pumping station, the Museum is built around several three story nineteenth century steam engines that still work. And yes, for a price you can run some of the museum's steam engines on your wedding day. Your guests will wander through the beautiful industrial spaces while listening to music, or head out to a festival-style reception in the yard (home to a working joinery and forge). It's industrial-vibe is perfect for those who are looking for something a bit different, and the hire fees are also very reasonable. For a little extra, you can ride the miniature train to meet your guests. Clearly the best venues involve some kind of quirky transport.
4) The Museum of London Docklands
If an industrial feeling has peaked your fancy, then you might like the slightly larger Museum of London Docklands. The building itself is a nineteenth century warehouse and it carries a historic vibe throughout with its exposed beams, reclaimed floors and stunning brickwork. Situated right next to the West India Quay, there are plenty of opportunities for interesting photographs with some of London's dockside heritage. It's a bit more expensive than the previous venues, but more suitable for larger parties. Plus, you can take your wedding pictures in Sailor Town! Nothing says true love like pretending to be a hard drinking sailor in 1840s Wapping.
5) The Horniman Museum
So you'd love somewhere Victorian but want a space that's a little bit more 'pretty' than these industrial spaces, then the Horniman Museum is for you. Take your vows on the Bandstand and your photos in the beautiful gardens before heading to the Grade II listed Victorian Conservatory for a memorable knees-up! The Horniman Conservatory has to be one of the most beautiful wedding spaces in all of London, but unfortunately all this Victorian glamour comes with a pretty high price tag. Still, if you can afford it the Horniman makes for a glamorous wedding celebration.
6) The Pump House Gallery
Not technically a museum, but a lovely little art gallery in Battersea Park, the Pump House Gallery (you guessed it, in a nineteenth century pump house) combines art and history! The beautiful surroundings and the light airy spaces of the gallery make this venue best for a spring or summer wedding - plus then you can enjoy drinks by the lake. Although it's quite a small space, it definitely makes up for it in photo opps and very reasonable hire prices.
7) The Natural History Museum
So mostly we wanted to provide you with tips of less thought of and reasonably priced museums for your wedding- but c'mon, how cool would a reception at the NHM be?! Well - if you are struggling with where to put your 300 guests and you do have 20k to spare for venues fees, than this would be an amazing spot. Dance the night away beneath the arches of the Heintz Hall and descend its sweeping stone staircase for your introduction. It certainly would be memorable...
8) Jerwood Space
The Jerwood Space in London Bridge brings a bit of a modern-twist to our so far very historic list. Civil ceremonies and weddings in the Jerwood take place in its bright, white-clube style gallery space, and receptions in its Glasshouse. The surrounding industrial streets would be beautiful for photographs, and it is just the space for the more artistically inclined. Plus with hire by the hour fees, you can make your wedding as inexpensive or lavish as you can afford!
These are just a few suggestions that we love- but if you have any other fab museum wedding ideas but sure to let us know so we can add them! Now enjoy your Valentine's week you lovebirds.