Walthamstow is on the up and we've been hearing about it for the past few years, but what makes a place really cool? An unusual art gallery on a run down industrial park is often the ticket to a time out listing. But Gods Own Junkyard isn't the run of the mill addition to an up and coming area its been a stalemate display room for the local neon sign factory Electro Signs and artist Chris Bracey for sometime.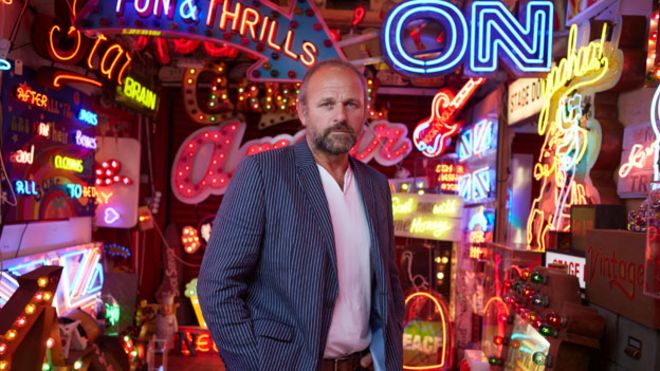 Known as the Master of Neon, Chris Bracey was the shining star of his family's neon light business Electro Signs where he specialised in the seedy lights of Soho sex shops. Inspired by the American light artist Bruce Nauman he saw the potential for creativity and artistic license in his lighting business and his unit in Walthamstow soon become a workshop and display space for his own handiwork and many others until his death by 2014.
Not quite a museum or art gallery but an active collection, the unit features over 700 items made by Bracey and Electro signs available for purchase or perusal. The lights are not noted with details of their title, year make or description. Nonetheless this is a thrilling visual overload and one that should be experience while listening to this:
With faith playing a key part in Bracey's exploration into light art, many items feature contempt - models of Jesus with neon guns placed into his open palms, a Louis Vuitton encrusted Madonna placed carefully and messily next familiar cheeky sex shop signs or arcades. Nonetheless Bracey's work goes further than the unit in Walthamstow, as a skilled craftsman he was occasionally contracted to make the works of other artists including Martin Creed, Work Number 232 'the whole wold + the work = the world world' currently on display in Tate Modern.
Visiting this unit in Walthamstow is a real visual treat and what's even better about this place is that you can enjoy a coffee or locally made beer, discuss the cost of their electricity bill whilst still sitting among all of the lights.
God's Own Junkyard is open Friday and Saturday 11am - 9pm and Sunday 11am - 6pm.