Here at The Ministry we celebrate the achievements of women across the museum industry and strive for a better representation of women within it. We want to see more women in the top director positions, we want women to be treated equally in the workplace and of course we want to see that women's history is reflected in the displays and exhibitions across all museums. So back in August 2015 we were like most appalled by the launch of the Jack the Ripper Museum, especially when the museums planning app to Tower Hamlets promised to celebrate the history of women in the East End. It's certainly a stomach churning turn of events.
But as we celebrate International Women's Day lets also celebrate the women who are campaigning for change that will hopefully make other museums think about how they represent women or at least stick to their planning app promises.
Celebrate Suffragettes not Serial Killers
are petitioning to Tower Hamlets Council to revoke the planning permission and force its closure to reopen as the
women's history museum. In honour of this we asked leader of the campaign
Becky Warnock to answer a few questions.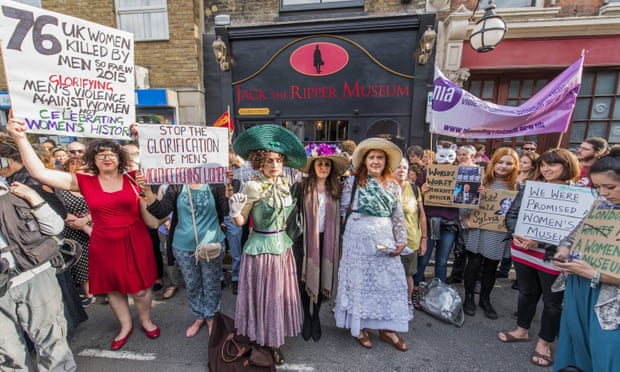 1. Can you tell us a bit about yourself? Are you a museum worker? History fanatic? Have you worked with museum groups in the past? And if not, has it changed any of your perceptions?
Well, I'm not a museum worker, but they've certainly been a big part of my life since I was quite little. I used to have a birthday trip to central London every year, where we would go to a museum for the morning, a shopping trip and then to see a west end show. I loved it. The British Museum was my absolute favourite, I was completely fascinated by the ancient Egyptians – and I'd sit for ages staring at Tutankhamun.
In recent years, museums and galleries are still a very special place for me, it's where I go to be on my own, to think, to learn and find inspiration. I've spent lots of time in my career (I work as a Community Artist amongst other things) bringing groups of people, many of whom haven't been ever before, to see different exhibitions, and encouraging them to engage with the sector. I think museums and galleries should be for everyone, and breaking down the barriers that stop some people engaging with them is really important to me.
2. How did the Jack the Ripper Museum first come to your attention?
Well, I was actually in Switzerland on a project when I first heard about it. I had been reading the news as I prepped for my next session, and to be honest, it was one of those horrible days where every article I read made me feel sad and angry about the state of the world we live in and I was becoming increasingly irritated (I can be pretty hot headed at times!) Then finally I read about the Ripper museum and it was a bit of a final straw. I was speaking to a friend, who bless him has had to put up with many of my impassioned rants, and he just said 'well do something then!' And that was that really.
To give you a bit of context, in October 2014 a new museum gained planning permission by promising 'the only dedicated resource in the East End to women's history'. With insulting irony, the museum has now been unveiled as a venue dedicated to the violent crimes of Jack the Ripper. Originally billed as a celebration of East London women and the suffragettes this museum now celebrates the life of the serial killer who viciously murdered women across London's East End, from 1888 and 1891. The original application, upon which Tower Hamlets Council gave its approval, says: "The museum will recognise and celebrate the women of the East End who have shaped history, telling the story of how they have been instrumental in changing society. It will analyse the social, political and domestic experience from the Victorian period to the present day." The document cited the closure of the local Whitechapel's Women's Library in 2013 to stress that the "Museum of Women's History", as it was billed, would be "the only dedicated resource in the East End to women's history". Instead, as is far too often the case, a celebration of the struggles of women has been forgotten.
I think this particularly set a chord in me because I used to do a lot of work for a domestic violence charity who work all over London, and one of my most recent projects had been in Tower Hamlets, not far from Cable St. The work that we do with them is to encourage young people to think about what healthy relationship is, and also begin to identify abuse and early warning signs of dangerous relationships. 2 women are week are killed by a partner or ex-partner in the UK, and in 2015 at least 126 women were known to be killed by men. Now for me, those statistics are shockingly high, and something that we should be ashamed of as a society. To open a museum to glorify a myth that seemingly celebrates the horrific murders of Victorian women seems to me entirely irresponsible, how do we expect to educate young people against hurting each other, if instead we open a museum to a man that did!
3. What do you hope to achieve through this protest? And what are your main methods of protest?
Well, I'm not a campaigner by trade, so to be completely honest; I am doing a lot of this by instinct. When I read about the development of the Jack the Ripper Museum something inside me clicked into action.
So I started a petition through the Campaigns by You section of the 38 Degrees website. I didn't really expect anything else to happen to be honest. Only it did. And now there are nearly 14000 signatures and a series of events happening in line with International Women's Day.
We've met and petitioned the Mayor of Tower Hamlets, John Biggs, who has been vocally very supportive, but it seems that his hands are somewhat tied in terms of what the council can actually do. The planning permission was granted for the development of a museum, which is what was opened. It apparently doesn't matter that the content of the museum was so vastly different to what the application said it would be. So legally, there are very few avenues for us to go down. Though if there is anyone more informed that I am reading this – please do get in contact – I'd love it if we could do more!
While initially starting the petition with 38 Degrees gave me an avenue for my frustration, it turns out that lots of other people shared this feeling as well. Through the petition I've met women from the 'East End Women's Museum', an online space dedicated to creating the museum we all deserve, who have over 300 volunteers. And we're all united in a desire to do something about the museum. For now, there's been regular protests outside of the museum, lots of negative reviews on all tourist sites (it's really effective apparently!) but now I'm keen to actually develop some of what we were promised in the original museum application. So I'm currently working with a group of local activists and we are aiming to create some events that celebrate the women of the East End, some of them in time for International Women's Day, and others later in the year.
4. How do you feel your background as an artist has informed your stance?
Definitely, as an artist, all of my work is about participation –working with communities and people. You can see some of my work here I think that the best art is socially engaged, and in many way artists have the ability to critically engage with society and reflect some of it back to itself. This protest and campaign has taught me a lot about what it means to be an activist, but also, ignited a desire in me to create work that not only comments and engages with communities, but actually attempts to create real social change.
5. Why does London need a museum of women's history?
Because there are so many incredible women!
Too many times in history women and the role that they played has been overwritten, and we need to celebrate them. Young women deserve to have role models that make growing up easier – knowing that there are people who have gone before them that they can relate to; that have been where they are, overcome huge adversity and gone on to do great things. A museum of women's history would be a place of refuge and celebration, giving men and women somewhere to come and reflect on what has happened previously and how that has affected our lives today. Even now, many museums, and galleries are dominated by men, and to have a single resource that dedicates itself to women would begin to promote gender equality amongst cultural institutions.
6. Thinking about International Women's Day what does the Jack the Ripper museum say about the state of feminism in the UK?
I think that this and all the other incredible protesters and campaigns that are around at the moment; Sisters Uncut, No More Page Three, Everyday Sexism, Let Toys be Toys to name a few; show that there is a real desire for change amongst society.
Declaring yourself a feminist is part of a rebellious act that says I am this. I will not conform; I do not accept your patriarchy: supporting feminist political ideas for me means a desire for change, and an engagement with the political, social and economic effects of that; but to do that you already have to have found your own sense of identity within feminism first. You have to already declare: I don't want this! I think there is an increasing appetite in feminism to go out and make the changes that we are looking for, and I think that's really exciting.
7. Where do we go from here, and what can the museum sector do?
We keep going! From where I stand, (which I am aware is quite a privileged position but hopefully it's still true) I think there's lots of really exciting movement happening at the moment, and I hope that will continue. I hope that the museum sector will continue to capture and document that, making sure its capturing a true cross section of it, covering the perspectives of all genders, races, economic backgrounds, sexualities, people with disabilities…but also providing them with spaces of retreat, reflection and inspiration, just like what they did for me as a kid drawing Tutankhamun over and over!
We urge you to support the campaign and sign the petition and maybe even check out this great event next week!
Big thanks to Becky for taking the time to answer our questions, let's take a moment to appreciate all the ace women in this industry!